What are diaphragm seals?
Pressure measurement is a critical task in industries where thermal processes are employed. A wide range of instruments, such as the Bourdon tube, are employed to perform this task and there are numerous instances when the pressure measurement becomes a tough task due to the influence of various factors on the procurement measuring instrument. This is when diaphragm seals become necessary. Diaphragm seals, sometimes called chemical seals, are employed in situations where it is necessary to isolate the pressure sensor from the process medium.
Diaphragm seals are safety mechanisms created to keep potentially harmful process material away from pressure gauges, transmitters and switches. The pressure is applied to the flexible diaphragm instead of the pressure sensor's interface, and it is then hydraulically communicated to the instrument by the fill fluid. A diaphragm seal assembly will have no impact on the instrument's performance if it is placed and filled correctly.
A diaphragm seal's function is to separate a pressure measurement device from the process media. It is frequently employed for the most challenging measuring operations. Examples of such difficult situations include: when the environment is extreme or when it is challenging to establish a process connection to the measuring equipment; when the media being measured is corrosive, thick, adhesive, or readily solidified; or, when the process isn't chemically appropriate with the instrument material.
Properties
Diaphragm seal systems can be made from various materials. The diaphragm seal is separating the pressure gauge from the medium. With the filling with pressure transfer fluid there is an instant transfer of pressure to the measuring device.
Production of diaphragm seals
Schmierer diaphragm seals will be produced to the highest standards with unmatched lead times. We also produce according to our customers specifications and helium leak test every single diaphragm seal. With this process you can be sure that your diaphragm seal is 100% tight and works perfectly in every harsh conditions.
The diaphragm seal and the pressure transfer fluid are built and customized to your guidelines. Here we are taking the different process conditions and sanitary standards into account and will find the perfect solution for you.
You can be sure that if your construction is physically possible, we'll do it for you quickly.
Please call us for more information and we'll help you find the perfect match for your process.
Please find an overview of our diaphragm seals a little further down at this page starting with V120 and going all the way down to V189.
Customized solutions with your drawing are available on request:
+49 (0) 6152 - 98 01 - 5 or send us an E- Mail to orders∂schmierer.de.
We are looking forward to work with you!
Types of diaphragm seals
On the basis of these applications, diaphragm seals can be categorized into the following types:
This type of diaphragm seal is utilized to permit fluid passage and is inserted into various connector types.
A threaded diaphragm seal is designed to attach directly to threaded process connections. These seals are coupled with gauges for use in switches and transmitters through threaded and flexible capillaries.
A flanged diaphragm seal is made to be mounted directly on pipes, tanks, and other standard flanged connections. Their flexibility allows them to be mounted directly on various pressure gauges and switches.
A sanitary diaphragm seal is made specifically for the food and pharmaceutical industries, where it's important to avoid the growth of bacteria.
Application of diaphragm seals
Following are some of the applications of diaphragm seals:
Diaphragm seals are typically utilized in situations where it is critical to protect pressure gauges and pressure transmitters from the measurement medium or heat.

All diaphragm seals can also be provided with duplex steels or other varieties of stainless steel.

Bourdon tube

pressure gauges, pressure switches*, pressure transmitters, and differential pressure gauges or transmitters can use diaphragm seals.

Diaphragm seals can be employed in situations where corrosive process fluid is present.

They can be employed in situations where the process fluid, such as a slurry, sludge, or other similar material, has a high viscosity or contains other materials that could coat or harm conventional pressure monitoring equipment,

Diaphragm seals can be used in situations where the process fluid may freeze or polymerize, potentially immobilizing the instrument or impairing its ability to send an accurate pressure measurement or signal.
*If you would like to learn more about pressure switches, how they work and their possible applications, we recommend the following article: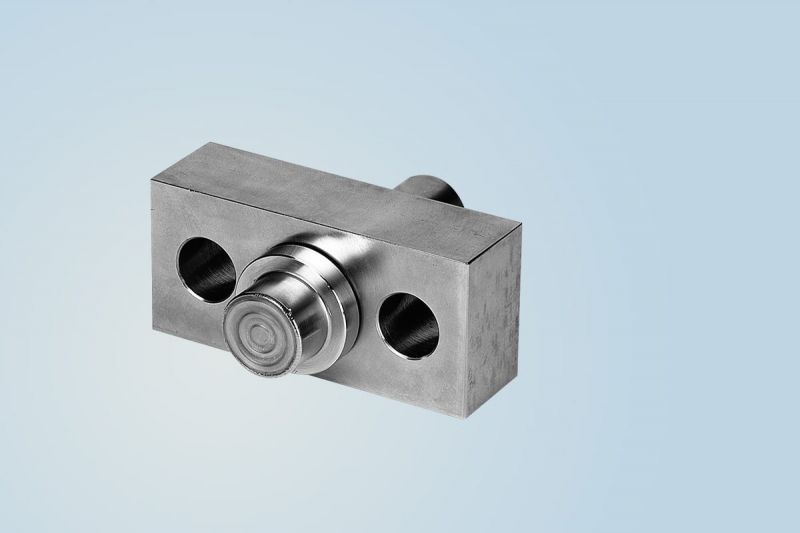 Bourdon tube pressure gauge with diaphragm seal for homogenizers
Especially for your high pressure applications we offer homogenizing diaphragm seals with short delivery time.
Cost-effective repairs are also possible for non-welded versions.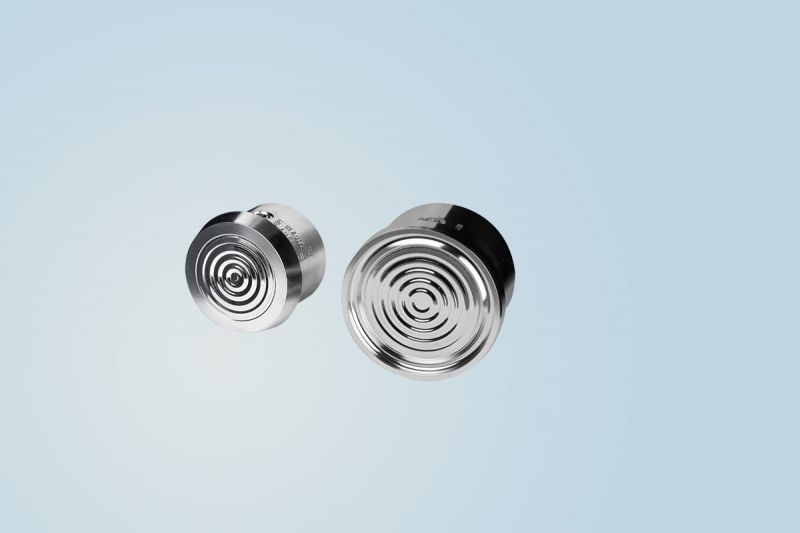 Bourdon tube pressure gauge with diaphragm seal acc. to DIN 11851 (food stuff industry)
For the food industry we also offer diaphragm seal systems in special designs according to drawings.
Please feel free to send us your inquiry.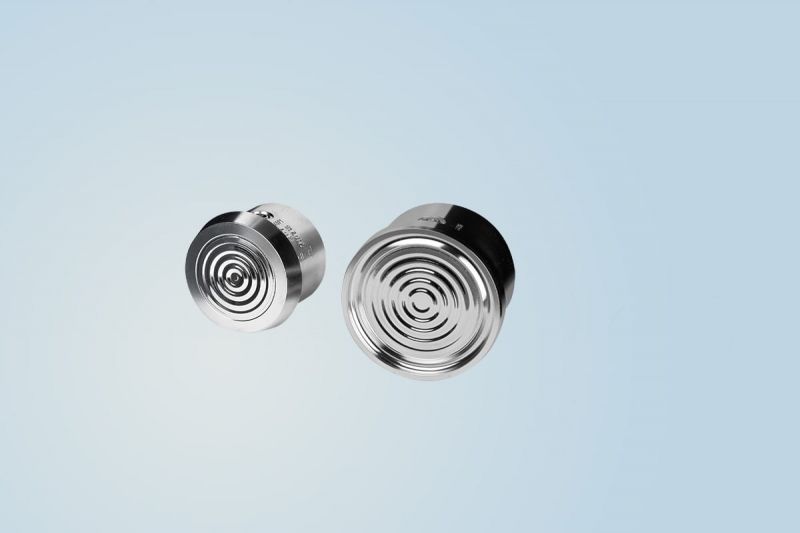 Bourdon tube pressure gauge with sterile process connection
Sterile diaphragm seals also in clamp and SMS design are part of our program.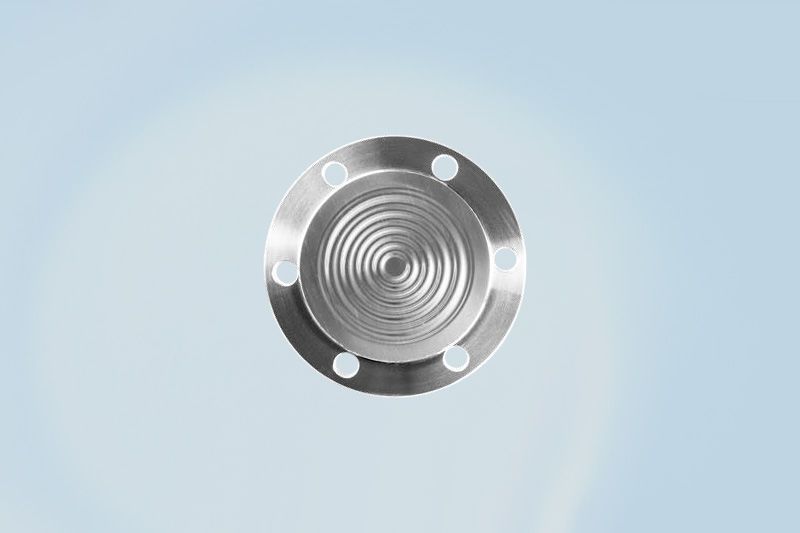 V 120 Diaphragm Seal
Seal type V 120 + bourdon tube pressure gauges are used for pressure ranges higher than 1 bar; type V 121 for pressure up to 1 bar. Please see other seal-variations V 161 ff. The pressure connection can be made with types V 123, V 146, V 150, V 158, V 180 and V 181.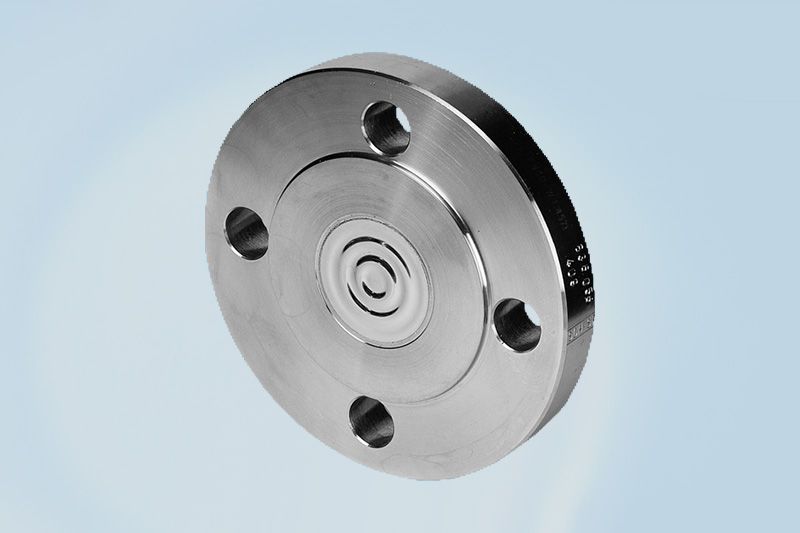 Flanged diaphragm seal
Flanged diaphragm seals for pressure measurements according to the sketch opposite are used for viscous, crystallizing and solid-bearing media. The corresponding pressure gauge is screwed in tightly on the receiving side and the entire system is filled with transmission liquid after evacuation.
Repair service for diaphragm seals
Repairs of diaphragm seal systems is a integral part of our standard program. We are equipped to repair almost any size and type and will therefore be ready to deliver in very short timeframes.
With our service we will give you shorter down times, lower costs and you will also be able to save valuable money and resources.
Since diaphragm seals function in harsh and tough environments, they are prone to damage and potential liability. Schmierer eases their customers' peace of mind by providing high-quality maintenance services for diaphragm seals. Regardless of the dimensions of the diaphragm seal in question, we provide repair service guaranteed to achieve customer satisfaction.
Our repairs ensure your diaphragm seals will work in connection with your pressure and differential pressure transmitters and, as a bonus, we offer a modular approach that allows our consumers to save up to 80% compared to purchasing a new transmitter from another brand. Our repair services can restore diaphragm seals and transmitters from multiple brands. We believe that instead of buying costly new seals, repairs are more cost-efficient and environmentally-friendly.