Bourdon tube pressure gauges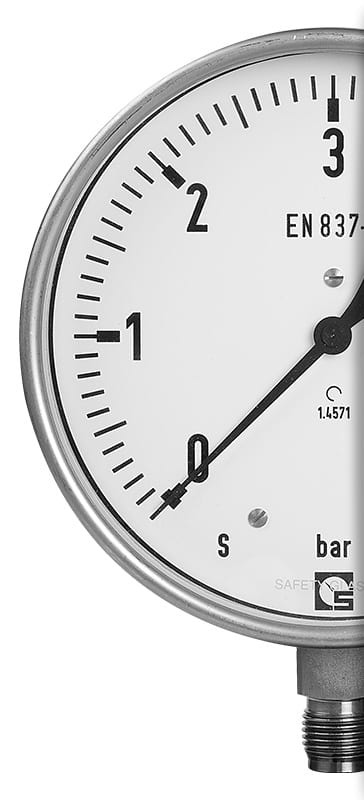 Function of a Bourdon tube pressure gauge
A circularly bended tube is on the one side connected to a socket and on other side it is closed. When there is overpressure inside the bourdon tube it stretches itself to the outside, if there is negative pressure the bourdon tube contracts inwards. This movement of the ending of the bourdon tube is a measure for the incoming pressure and is carried over to a gear segment onto the gear of the movement.
With a bourdon tube pressure gauge you can measure fluids, gases and steams with a positive pressure up to 1000 bar and negative pressure up to 1 bar. The accuracy of the gauges is between ± 0,1% and ± 2,5% of the upper range value.
Material
The bourdon tube will be custom made according to the specific needs. They can be made from non-ferrous metal and for more aggressive mediums materials like SS 316L or Monel can be used.
Ambient temperature / Medium temperature
The admissible ambient temperature of the pressure gauge is between -40°C and +80°C. The maximum temperature of the medium is +100°C for non-ferrous metal gauges and for UNI gauges +150°C. This can be however increased with the right diaphragm seal or cooling solution.